your eyes make mine twinkle. and my heart beat a little crazier.

oh hi there :) This is a journal, emotional recycle bin, confession box, rant zone and a 16ner's exhibit of her individuality and free spirit. Feel free to roam around. :) navigations are the fours lines of lyrics.
they are profile, entries, tagboard and links navigations respectively (from the top).



Friday, August 14, 2009, 7:32 PM
victory liner
OAG! (Oh Aking Gosh) :DD

I'm going back home in Pampanga for the first time since the first day of my stay here in Baguio.
Yey. I'm uber excited. I can't wait for Thursday. I miss home so much.

That's it for now. I'm quite in a hurry. (You call this a blog? xDD )
Alright. God bless ya'll.
Monday, August 10, 2009, 6:24 PM
pagkarandom-random :DD
Lapet na FRESHIE NIGHT. "Tayo ang Pagbabago Mga Bagong Iskolar Ng Bayan" --astig diba?
oh pano CAC 2 pasiklab tayo? Yeah.
Pramis, kapag may laptop nako (God willing, that's soon :D ), daily updater na 'lit ako.
Ang konyo ko ngayon ah. Bakit ba? Feel ko eh. :))

I'm missing home so much.
Pampanga, miss mo nako?

I had so much lessons learned on different things, on life these past two months.
Syemps, I'll be sharing them with you next time.
Puro ako next time no? Nakakasawa. Kahit AKO MISMO nagsasawa na.
Eh busy nga diba? :))

I'll be blog hopping. I missed your pages guys.


"Paano nga ba gawin ang imposible..tulad ng paglimot ko sayo?"


YUCK!

Ang keso

. harhar




My GOD is mighty to save

Wednesday, May 27, 2009, 10:57 AM
lame game
oh so shameful. I can't update anymore. I'm getting busier. arr. What a super boring summer. pft.
Saturday, March 14, 2009, 6:07 PM
you shot me right through the heart
To save myself from tomatoes ( Yes. I'm guilty of the 16-day-abandonment-of-blog crime), I'm gonna do something different today. I'll be doing less of talking. Let the photos tell their stories. Oh wait, let me do some narrating if needed. Let's start? :)







I can say I'm satisfied with how I looked for this year's prom. I enjoyed the ball. Danced and danced with girlfriends. How I wish I took more pictures. Last year's prom was better.
The one thing we disliked is that
food was served in styros
.
Errr.
:: GELA's BIRTHDAY ::


The gang was complete again, after a year and more. Lea's always unavailable we don't know why, Chelsea always has gimmicks with her new girlfriends and Gelaii's always busy checking testpapers. ( TRIVIA: Our birthday girl's a Teacher's Pet. aha ! ) Me? Well ahmm.. busy with... with.. oh my sched's always crammed up. There's the photo shoot, autograph signing, recording .. man, I can't get a life. HARHAR !
Asaness is the happiness
- 4.Genevieve





(disregard the wrong grammar, 4.GENEVIEVE is a class of morons xD JK.)



Belated greetings ghela.

We all love you

and you know that.





:: OUTREACH / PICNIC / OFFICIAL LAST DAY OF CLASSES ::






Mara's turn to pass through the tunnel. That's me in bright orange.

Meet the ORANGE Rangers. :))

We had a blast last March 13 (Friday the 13th). I lent a hand in the kitchen and helped in the food preparation for the kids. It's heart-touching to see their smiles, their little way of showing they appreciate our efforts to make them happy. We truly have outreached them.
After our community service, everybody has agreed to have our picnic in Bicentenial Park. It was the first time na naglaro ako ng Maro. Our team won. SUKLAB ang opponents namin. haha. After heaps of laugh, when it was near twilight, we formed a Circle of Love. Everybody had a chance to say whatever they wanted to say. Few cried. I didn't. Record yun ! aha. We ended the day with hugs and kisses and smiles and tears.

Ang saya. Super. A day to remember talaga. I'm gonna miss them all for sure.

Today's the LAST DAY of our Finals. Looking forward to Graduation Day.
"tan tan na nan tan tatan.. tan tananan tatan.. tan ta tan ta tan.."
SLEEPLESS NIGHTS ARE OVER !

IDENTIFIED TARGET : your heart

Tuesday, February 24, 2009, 9:15 AM
let's all shout
SINGLE IS

SEXY

.





harharharhar.
Sunday, February 15, 2009, 7:15 PM
enough of second chances
wow. It has been half a month. I'm running out of things to say, though I have a lot in fact. harhar. I just don't know how to organize them. Time for some brain work. I was idle (in a blogger aspect) for half a month and that isn't good. So now what? hmm..

Church- I'm missing a lot of it. Help me pray. Let's meet in prayers.

School - Heck. There's A LOT of work. We have revised our thesis for the nth time imaginable. And revising means reprinting. Reprinting means we have to pay for the printing fees, AGAIN. We are so relieved (that we wanna to throw a party) that the thesis stuff's finally over. Thank God. As in.

What else have I in store for you?

I'm really, with the best of my efforts, trying to lose weight. Know what? It's a lot harder than having thesis work. I have to sacrifice a lot of things. I have to pretend I don't know how good lollipops and the like are. Grr. I even have to jog and do strenous activities. My oh my. This is real torture. The silver lining is that, I'll be making him realize what he had but chose to let it go, and that he'll never have it again.
.
.
.
palaban ! haha.

"He" has changed a lot that sometimes I don't know who he is anymore. He keeps on disregarding my feelings. His jokes aren't funny anymore, the fact is, they're like double-edged sword that cuts through me. He is not even aware of it, that he's causing me so much pain than necessary. The biggest question I have in me now is that :

When love ends, how soon should you let go ... how long should you hold on.
-- One More Chance

I'm left with no answer. I need a genius. Einstein himself perhaps. Truth is, not a genius could answer that. It's me myself. But I'm afraid of the answer I'll come up with. I'm still not ready for that. I'm in the hurting process, and the

"moving on"

one. I hope it wouldn't take long. Me passing the UPCAT is a great help. I'll be away for 4 months. 4 months of not seeing even his shadow, not hearing his voice that I so adore. Those ought to help. I'm with crossed fingers.

Aba teka lang. Grabe ang shift ng story ko ah. From losing weight to my heartache.
Enough of this. I ought not to depress myself. I choose to be happy, loveless or not. :)

Missed ya guys. :) I'm gonna blog hop.
Saturday, January 31, 2009, 2:40 PM
pleased with it
I, with the help of my personal efforts, am moving on.

And once again, hello world .
Vanity isn't a sin, a little narcissm wouldn't hurt.
SIYEMS.16 years young. Christian. aspiring writer. journalist in the making. frustrated pianist. bubbly. witty. dreamer of big things. unsporty. narcoleptic. diagnosed thyself of SAD syndrome (beat that !). Kuyas' girl. your next big thing... nah, just kidding.
mucho love.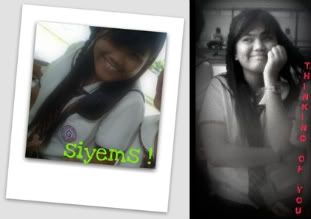 LOVES : guitars. TEDDIES - my best sleep buddies. bonbons . pigging-out... I mean eating out, of course. :)) cracking the CORNIEST jokes. ICE CREAMS. laughing till my tummy hurts. friends. GOD.

LOATHES : the devil - LOSEEER .! liars. "feelers". dull moments. strict school rules. having to be on a diet. arrr. people who don't even TRY to laugh at my jokes.

WISHLIST : ( GIMME some love XD ) a DSC-T700 . a lomo cam. yabang pinoy band. a cellular phone. trip tickets to EUROPE. more teddies :) . have guitar and piano lessons.



chincoii
charoot
rouxies
ate chiui
jeddah
ritz
alyssa
zchelle
dylan
joanna
rose
thefabandthefurious
genibangs
ab
riyo
zee
merie
aix
FRIENDSTER





+ victory liner
+ pagkarandom-random :DD
+ lame game
+ you shot me right through the heart
+ let's all shout
+ enough of second chances
+ pleased with it
+ up up and away it went :)
+ move it
+ never an original


+ April 2008
+ May 2008
+ June 2008
+ July 2008
+ August 2008
+ September 2008
+ October 2008
+ November 2008
+ December 2008
+ January 2009
+ February 2009
+ March 2009
+ May 2009
+ August 2009


A accidentality productions
Inspiration from DancingSheep & BONBON:D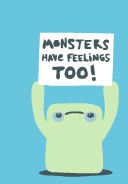 <$BlogDateHeaderDate$>
<$BlogItemTitle$>
<$BlogItemBody$>